By Ed Pierce
Managing Editor
Last month, Maine officials unveiled a proposal to replace the state's current license plate with a new design featuring the 1901 Maine Flag.
The chickadee design has adorned Maine plates for the past 24 years and if the proposal is approved by the Maine Legislature, chickadee plates would be phased out by 2026.
The new "Dirigo" design proposal features a plate with the white background of the 1901 flag, with a star that is colored navy blue and a dark green pine tree situated on the left side of the plate. Also in navy blue are the words MAINE at the top of the plate with VACATIONLAND below.
The characters of the new license plate would remain in black lettering.
The state of Maine originally began issuing vehicle registration plates in 1905 and the only slogan ever included on a standard Maine plate, "Vacationland," first appeared on the plate in 1936. Over the years, license plate design and colors have changed for the Pine Tree State, but one thing remains constant, all general license plates and specialty license plates must be approved by the Maine Legislature.
Maine's Secretary of State, Shana Bellows, said the reason for changing the plate's design after more than two decades of use is because of plate identification issues during incidents requiring law enforcement, reduced toll collection and decreased nighttime and weather visibility rendering some existing white chickadee plates as "unreadable."
The 1901 Maine flag was created more than a century ago to include the state's most historic and well-known symbols and was renowned for its simplicity. It had a pine tree, which is Maine's state tree, and a symbol for the North Star, representing our state motto, "Dirigo," which is the Latin phrase for "I direct" on a plain buff field.
That flag was in use across the state from 1901 until 1909 when Maine Civil War veterans succeeded in adopting a design with a Union blue background and the state coat of arms on a new state flag that remains the official one to this day. But over the past decade, calls to make the "Dirigo" flag the official state flag have resurfaced, including a bill that was introduced in 2019 for Maine legislators to adopt the "Dirigo" flag as the state flag.
That measure failed, but a modified "Dirigo" flag design was implemented as Maine's "Bicentennial" flag for 2020.
According to Bellows, if the Maine Legislature approves the new "Dirigo" plate design, the state would continue to require vehicles to have front and rear license plates. She said that eliminating the front plate on motor vehicles would have an adverse effect for state, county and local law enforcement, public safety, border patrol, traffic management, toll collection, parking facilities, Maine Turnpike, and other government and private functions.
Bellows says coming forward with this proposal now will give the state ample time to manufacture new license plates and distribute them to Bureau of Motor Vehicle offices and towns throughout Maine for initial distribution by 2025 and into 2026. License plates would be created by inmates at the Maine State Prison.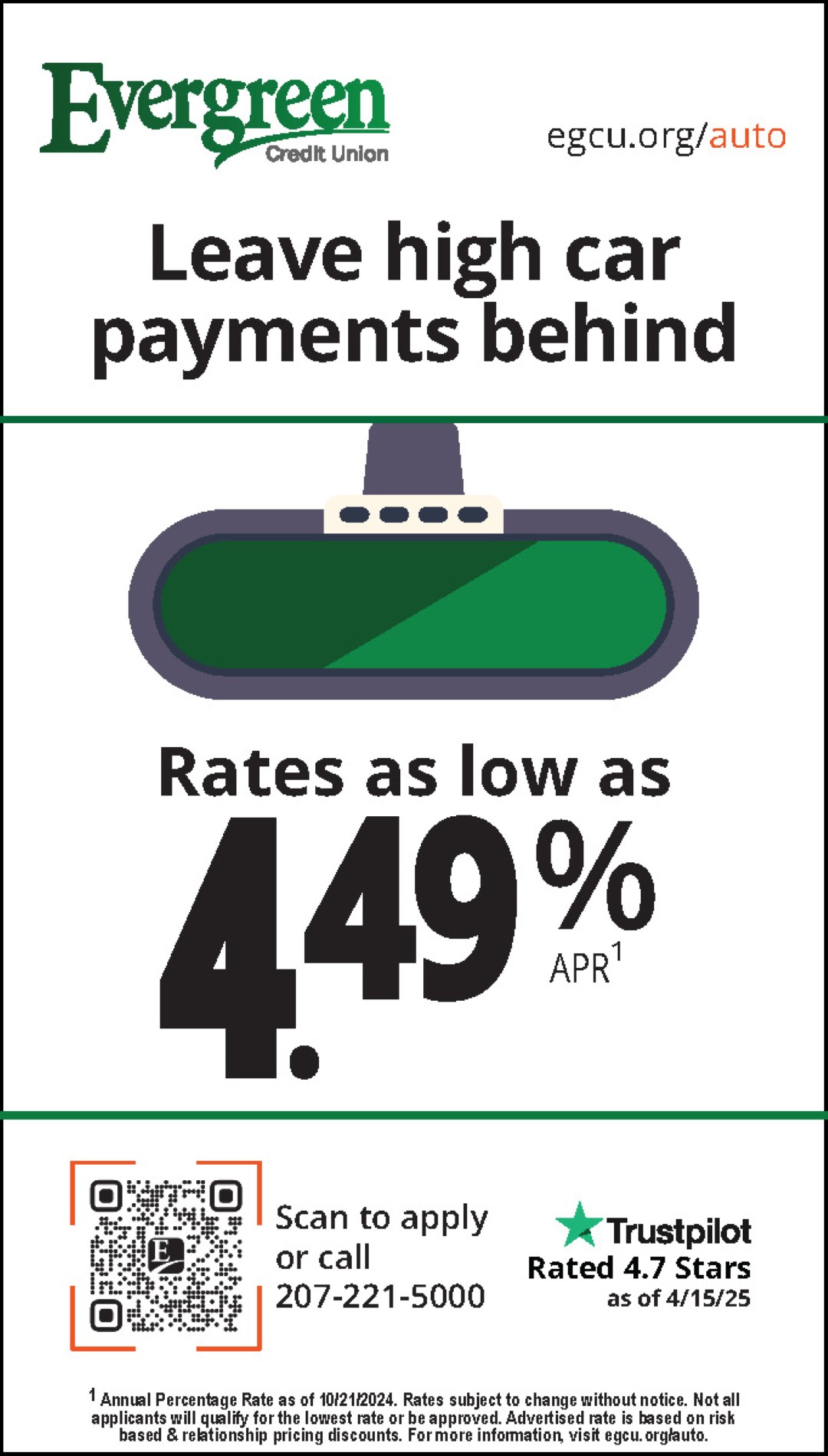 As for me, I have no opinion one way or another about Maine issuing new license plates. I've always had the standard "chickadee" plate and would welcome seeing something new on the highways.
But I would encourage Maine BMV and state officials to upgrade the registration sticker. And that's my ongoing primary complaint.
It's hard to put the newly issued tiny colored stickers for the new registration period on my license plates each year. The stickers never go on straight or evenly and often end up curling up around the edges or have to be applied over a weathered sticker that's in bad shape.
Before long, the registration stickers themselves are in poor shape and unsightly and certainly are difficult to read for law enforcement.
Some other states, such as Texas, Michigan, Arizona, and California have adopted the use of digital license plates, which can be customized and are highly trackable. Digital plates can display different emergency alerts for law enforcement, such as when a vehicle is stolen, or if there's a local Amber Alert or Silver Alert issued for the vehicle.

The digital license plate system also can transmit a signal that your vehicle's registration has expired and may also speed up the BMV process for renewing your vehicle's registration, similar to the ease of paying a bill using a smart phone when it's due. The high-tech license plate could also emit a signal of a vehicle's collision alerting first responders and police or possible involvement in a crime.

These new digital license plates are probably some time away from use in Maine and there's truly no guarantee that a majority of Maine legislators will pass the proposal before them to adopt the "Dirigo" idea for the new state plate.

Some legislative observers have rated the proposal as having a 70 to 30 percent chance of passing though and hopefully by late spring, Maine residents should know for sure as to whether they will have to obtain new license plates by 2026.

I'm indifferent about new state license plates and would prefer upgraded registration stickers.<