By State Sen. Tim Nangle
I'm proud to represent communities in our great state, known for its vibrant agriculture and rich cultural heritage. One of the highlights of the start of the spring season in Maine is the annual celebration of Maine Maple Sunday, an event that highlights the state's maple syrup industry and its significance to our economy and way of life.
State Sen. Tim Nangle
Maple syrup production has a storied history in Maine, which began when Indigenous Peoples in northeast America first discovered the sweet sap of the sugar maple tree. Today, Maine is the country's third-largest producer of maple syrup, with more than 450 licensed maple producers across the state, generating 672,000 gallons in 2022 alone.
Maine Maple Sunday began as a small local event in 1983 and has since grown into a statewide tradition that draws thousands of visitors from across the country each year. On the fourth Sunday in March, maple producers throughout the state open their doors to the public, inviting visitors to witness the process of making pure Maine maple syrup and other maple products.
Maine Maple Sunday is an opportunity to learn about the hard work and dedication that goes into producing maple syrup, from tapping the trees to boiling the sap down into syrup. Visitors can see the process up close, sample delicious treats, and enjoy the great outdoors. Many sugarhouses and farms offer tours, demonstrations, and activities for children, making it a fun and educational event for the whole family.
The Maine Maple Producers Association has an online interactive map that you can use to find local sugarhouses that will be participating this year.
To view the map, visit
https://mainemapleproducers.com/events/maine-maple-weekend/
.
This fun, annual occasion is also an important opportunity to support our local farms and businesses. By visiting sugarhouses and farms during Maine Maple Sunday, we can help support these vital parts of our economy and preserve our agricultural heritage for future generations.
Many of these maple producers are small, family-owned farms that have been passed down from generation to generation. These farms are an essential part of Maine's agricultural landscape, and they contribute significantly to our economy.
According to the Maine Maple Producers Association, our farms produce "more than $55.6 million for the Maine economy and support more than 833 full-time and part-time jobs that generate more than $26.9 million in wages."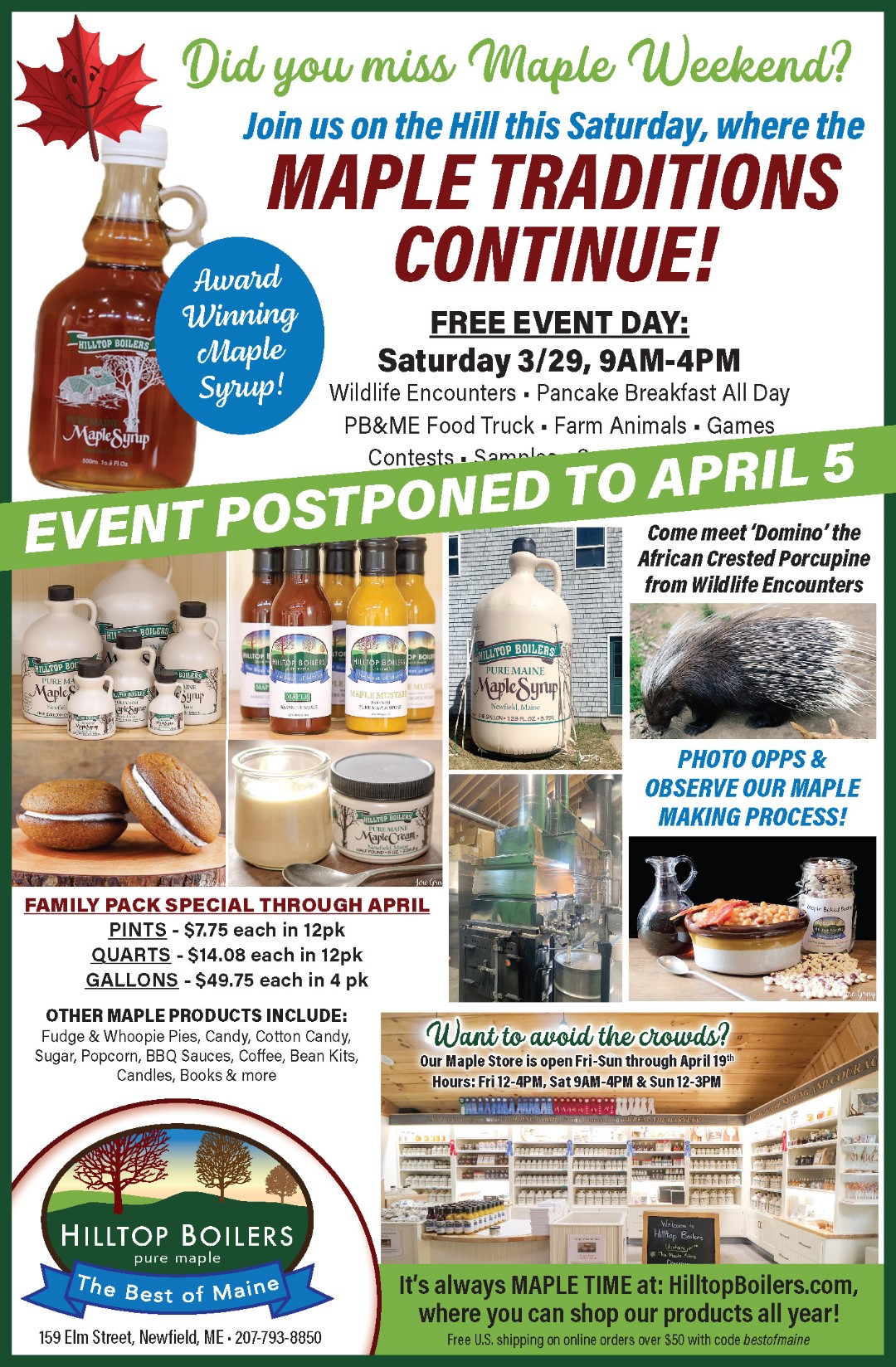 Maine Maple Sunday is more than just a one-day event. It is part of a larger movement to promote sustainable agriculture and environmental stewardship in Maine. Many participating farms and sugarhouses are committed to responsible forestry practices and environmental conservation, ensuring that their operations are profitable and sustainable for generations to come.
As we celebrate the 40th anniversary of Maine Maple Sunday, we must acknowledge the impact of climate change on Maine farmers and our agriculture.
The Legislature's Agriculture, Conservation and Forestry Committee recently voted unanimously to pass Sen. Henry Ingwersen's bill, LD 315, which will provide funding for drought relief and other programs benefiting Maine farmers. The bill will now go before the full Maine Legislature for additional votes.
LD 315 is crucial for ensuring the resilience of our agricultural sector in the face of changing weather patterns and other environmental challenges. By supporting this bill and other efforts to promote sustainable agriculture, we can ensure that Maine's farms and farmers continue to thrive for generations to come.
Maine Maple Sunday is a day to celebrate our state's heritage, promote sustainable agriculture, and support our local businesses. It is a day to come together as a community and appreciate our farmers' and producers' hard work and dedication. So please mark your calendars for March 26, and join us as we celebrate Maine Maple Sunday.
If you or someone you know needs assistance, wants to discuss legislation, or needs help connecting with a state agency, please don't hesitate to reach out. My email is
Timothy.Nangle@legislature.maine.gov
, and my office phone number is 207-287-1515. Also, you can find me on Facebook at
facebook.com/SenatorTimNangle
. To receive regular updates, sign up for my e-newsletter at
mainesenate.org
. <